Inelec, in constant evolution and search for high quality products, always bets on the leading brands of the market, and that is why, in terms of drivers our trust is in Moso.
Moso Power, manufacturer of drivers, revolutionizes the European market betting on innovation, efficiency and energy savings.
The latest trends in lighting focus on developing more sustainable lighting. This not only means reducing energy consumption, but goes a long way, from the inclusion of new technologies that provide intelligent lighting, to the general awareness of how lighting affects our daily lives and the environment. At Inelec, we strive to evolve to provide increasingly complete and sustainable solutions for our customers, ensuring the reliability and quality of LEDs luminaire installations. From the beginning, Inelec has opted for MOSO Power as a manufacturer of drivers, acquiring a fundamental role in the development of business within the European Union.
Moso Power: a history of quality and high technology
In 2009 was born in Shenzhen, China, the manufacturer of LED drivers MOSO Electronics Technology Co. It is created as a subsidiary of MOSO Power Supply Technology Co, which with more than 2500 employees, has a high technology that is mainly dedicated to research, development, manufacture and global sale of energy supply solutions.
The main line of business is focused on high power outdoor LED drivers, covering: road, horticultural, high power, industrial, landscape lighting and transport and rail lighting.
MOSO POWER's headquarters are in Shenzhen and its production bases are in Shenzhen and Huizhou. The company has been growing establishing service and distribution networks in Europe, North America, South America, Middle East, Russia, Southeast Asia, Shanghai, Beijing, Xiamen, Zhongshan … its products are sold to more than 100 countries and regions worldwide.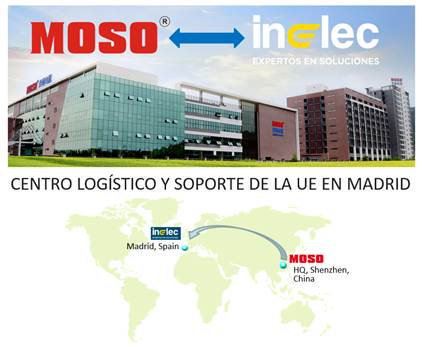 Illustration 1. MOSO POWER. LED driver manufacturer
Since its inception, and after years of rapid development, the company has been recognized in Fortune 500 and has formed strategic alliances with many of those companies. In 2011, its R&D center was qualified as "Shenzhen Municipal Technology Center" by the Shenzhen Information and Economy Commission. In 2017 it was selected among the top 500 Chinese brands and was chosen as "Top Ten Influential Brands in 2017". In 2020, it was included among the top 100 industry leaders in Shenzhen.
After all these years of rapid development, MOSO POWER has always shared the environmental concept of "green innovation, high efficiency and energy saving" and continues to bet on increasingly innovative solutions for outdoor lighting; industrial; landscaping and street lighting.
In the last three years, has passed successively the accreditation of the "Energy Engineering Technology Research Center of the Intelligent LED Lighting Controller of Guangdong Province" and "Energy Engineering Technology Research Center of Guangdong Province Standardized High Power LED Controller".
MOSO POWER continues to develop new drivers to continue offering the best solutions in the field of lighting. The Internet of Things is one of the trends of digital transformation that has become a fact and a permanent part of everyday life.
At Inelec we work day by day with MOSO to support all our customers, helping them define the best driver solution for their applications.
The latest developments and innovations focus on 100% programmable drivers that also integrate DALI regulation 2 and D4i (DALI for loT). With powers ranging from 40W to 200W and various lighting control options, the U6 and U7 series are the most complete on the market.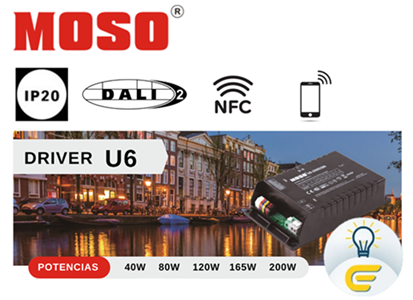 Figure 2. U6 drivers. 100% programmable IP20 controller
This programming is done using an NFC interface for a much simpler configuration. NFC technology is based on short-range, high-frequency wireless communication created for data exchange between two nearby electronic devices, which means that the driver does not need to be connected either to the PC or to the power so the process is faster and safer. It also saves even more time thanks to the multiprogramming option, in which you can program entire drives in a single step.
All these LED drivers incorporate an auxiliary power supply, it is an additional output to help integrate other devices that require power.
The different configurations of these drivers range from an adjustment of the output current to different custom control profiles. The software allows to program different modes of adjustment of the regulation, automatically and autonomously to adapt it to the needs of each installation. From a fixed programming throughout the year to a self-adjusting programming percentage according to the operating hours or a programming based on seasonal changes in lighting.
It allows a constant light intensity to be maintained throughout the lifetime of the luminaire (CLO – Constant lighjt output). An increase of the output current proportional to the operating hours of our LED can be programmed to compensate for the loss of luminosity that LEDs have throughout their life, providing the end user with the same level of luminosity throughout the lifetime of the luminaire.
The progressive ignition function allows us to program a gradual adjustment of the light levels both on the ignition and in each programming change to make it imperceptible or more pleasant to the end user.
It incorporates thermal protection and black box in both the driver and the luminaire.
Recently at Light&Building he presented the new version of U7 intelligent controllers designed for European road lighting. Its most outstanding feature, in addition to the aforementioned, is the double certification of DALI-2 and D4i (DALI for loT), which performs intelligent management of LED drivers and energy collection management to provide efficient lighting control and management.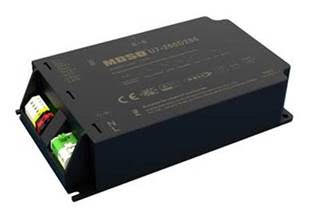 Figure 3. Driver U7. Intelligent controller DALI-2, D4i.
Zhaga-D4i is a joint certification program of DALI Alliance and Zhaga Consortium. Certified Zhaga-D4i products can carry dual Zhaga and D4i logos, which together indicate plug-and-play interoperability of sensors, communication nodes and luminaires. Zhaga-D4i lighting product ecosystem enables smart, future-ready LED luminaires with IoT connectivity
Here are the 5 main advantages of the D4i:
1. Integrated DALI bus power
Integrated DALI bus power can power DALI sensors and equipment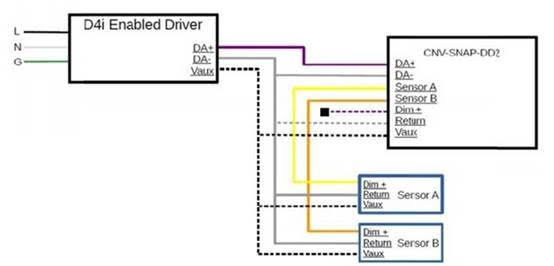 Illustration 4. DALI 2 D4i Led Driver
2. Expansion of the storage unit
The independent storage unit can accurately identify the information of each driver or lighting lamp.
3. Report on electricity
The driver can provide a complete electrical power report, which can track, verify energy savings and check the performance of lighting fixtures effectively.
4. Fault diagnosis and maintenance
The U7 series standardizes diagnostic and maintenance data information by collecting and storing performance information, operating hours and driver temperature among others, thus facilitating claims management on defective devices.
5. Auxiliary power supply:
Independent 24 V auxiliary power supply supports BOOK18 controller power, which helps to improve reliability and reduce cabling costs.
In addition to the D4i advantage, the U7 series also has 4 fundamental features:
6. Standardized dimensions: The U7 series complies with the standardized ZHAGA size and ZHAGA BOOK13 standard.
7. Compatible with CLASS I and CLASS II lamps
8. Multiple Protections: External NTC, UVP input, SCP output, OVP, OTP.
9. Surge protection. DM 6KV, CM 10KV.
10. Available in various powers: 40W, 60W, 80W, 120W, 165W, 200W
MOSO Power has a very broad product portfolio and is in continuous development, to offer the most innovative products adapting to new forms of lighting.