Improving health with light, an increase in color quality and efficiency, and an HPS color LED are some of the technologies that Nichia will show you Light + Building 2022.
Nichia, the world's largest LED manufacturer and inventor of high-brightness blue and white LEDs, will present a number of innovative LED technologies that are setting the pace for the global lighting industry.
Dynasolis™, a new adjustable LED solution that regulates circadian rhythms by simultaneously tuning melanotic illuminance and color temperature while maintaining high CRI and high efficacy. Human well-being focused lighting (HCL) is the focus when designing and developing new solutions: Morning light richer in blue light inhibits the hormone melatonin and promotes the activity of cortisol, the stress hormone. This increases people's attention span, their ability to concentrate and their general sense of well-being. As the day wears on, the color of the light becomes warmer, which reverses these effects and the human being relaxes in the evening hours and prepares for the sleep phase.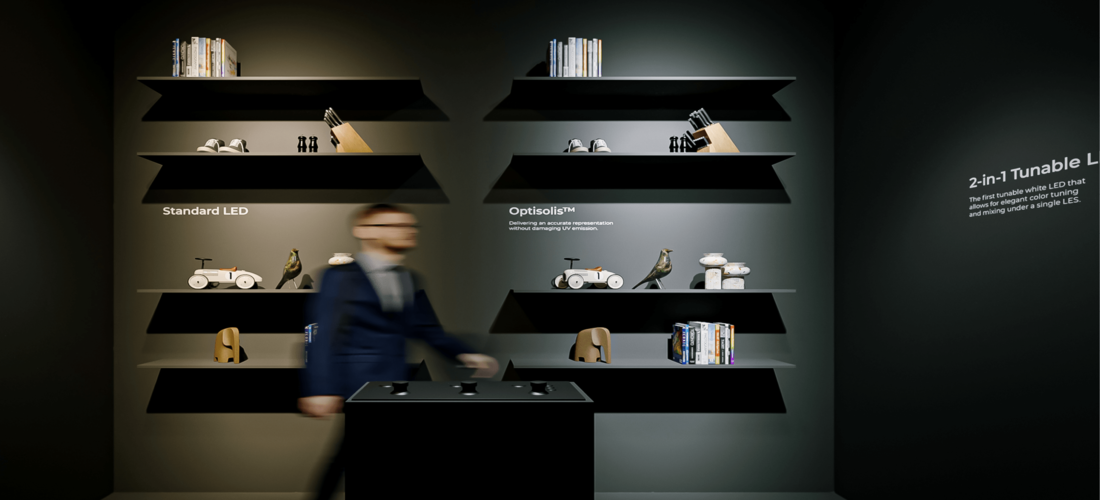 What are these Nichia innovations?
Dynasolis™, achieves this effect by offering color and spectrum tuning, ranging from an energizing blue to a warm, soothing white tone. By combining two distinct LED spectrums, the different sectors that demand these products (such as healthcare, education, work areas…) finally have a solution that provides independent control of this functionality, allowing the light generated to enhance mood and well-being on a sustainable level.
Nichia's H6 LED series offers increased color quality and efficacy by combining cumulative phosphor technology with narrow band red phosphor KSF and TriGain® technology. Nichia has optimized the light spectrum and overcome the trade-off between efficiency and CRI. The range extends from mid-power to chip-on-board (COB) products, presenting ideal solutions for retail, hospitality and office applications.
Improved LEDs
The HPS LED series faithfully reproduces the emission color of a high-pressure sodium (HPS) lamp, commonly used in roadway, outdoor and historic town center lighting. Unlike existing solutions on the market, the main feature of this LED is that it maintains the nostalgic atmosphere of the landscape with the same emission color as the HPS, while improving color visibility thanks to its higher CRI (Ra≥70). Luminaires equipped with this LED, not only offer a lifespan 2.5 times longer than HPS, but also provide higher luminous efficiency, lower energy consumption and less impact on the ecosystem.
Other innovations Nichia will showcase at Light + Building 2022 will be Optisolis™ LEDs and COB solutions that accurately mimic natural daylight without producing any harmful UV light. Optisolis™ offers natural color rendering performance through exceptional CRI value of over Ra≥98 and an R9 of over 94. Optisolis™ not only shows objects in a more vivid way, but also preserves them at their best, helping to prevent degradation of artwork, printed materials and textiles, while providing significant energy savings.
Thanks to the high blue-green light content, the Vitasolis™ series emits a natural white colored light that has been shown to stimulate awakening and support mood. This product can be used in offices, schools, hospitals and many other places in order to enhance productivity and learning. Nichia will also showcase its 3030 medium-power, white tunable 2-in-1, single light-emitting surface (LES) LED 3030. This innovative product enables higher color quality of up to Ra≥90 and offers elegant color tuning and color mixing within a single LED; it enables greater design potential with more creative and elegant solutions, avoiding the need for bulky color mixing chambers. According to Dr. Ulf Meiners, Managing Director of Nichia (Germany) "Whether it's bringing vibrancy and well-being to healthcare, work and leisure spaces, or ensuring the appreciation and preservation of valuable objects, Nichia's offering enables luminaire manufacturers to improve the world with "Light so Good", lighting solutions focused on the quality of light."
Whatever your project or application, we have a solution that will deliver remarkable benefits: such as lower energy consumption, wider color gamut and higher color rendering.
About Nichia Corporation
With a commitment to 'Ever Researching for a Brighter World', Nichia prides itself on being the technology leader and largest LED manufacturer in the world. Founded in 1956 as a specialty chemical manufacturer, Nichia quickly became a leader in luminescent materials (phosphors).
Nichia subsequently developed and commercialized the first high-brightness blue LED in 1993 and the first white LED in 1996. More nitride-based LEDs were developed. of various colors, including ultraviolet and visible laser diodes. Nichia believes that its products will continue to be at the forefront of energy-efficient solutions worldwide for years to come.