Write something in the search field

Building the future
Your needs, our challenges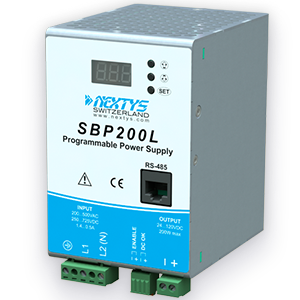 Description:
Power supplies have been designed for use in the industrial sector, laboratories and telecommunications and in special applications such as marine or railway.
Power supplies have a set or adjustable voltage/current output. This allows to limit, by power supplies, the current or tension of a certain level, to avoid circuit testing interruption.
Thanks to its design, the power supplies are light and easy to transport.
The power supplies mounted on DIN rail were designed with a fixed assemblage on electric cabinets and boards. Its field of use is regulation and control. It emphasizes on high stability long term and constant voltage/current outputs.

DIN rail
Compacts
Special dimensions
Various product families, from industrial power supplies to back-up and redundancy solutions.
Power supplies on DIN rail are designed and produced with an AC input (1/2/3 phase) o DC (up to 750 VCC) or DC and AC inputs. All of the families have various models classified according to output voltage and ranges from 20W to 2400W including newer technologies for higher efficiency, reliability and profitability.
Nuestra página web utiliza cookies propias y de terceros. Para seguir navegando debe aceptar la instalación de cookies propias y/o de terceros. Más información
Los ajustes de cookies de esta web están configurados para "permitir cookies" y así ofrecerte la mejor experiencia de navegación posible. Si sigues utilizando esta web sin cambiar tus ajustes de cookies o haces clic en "Aceptar" estarás dando tu consentimiento a esto.