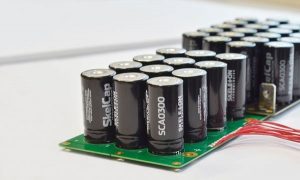 Skeleton Technologies launches SkelCap SCA0300 ultracapacitor platform. A cylindrical cell in the 300F range is a very popular product in the ultracapacitor market, but It has important improvements:
Higher power density and lower ESR 

Excellent thermal characteristics and longer lifetime
The SkelCap SCA0300 is designed to be easily mountable to PCB boards, allowing efficient assembly for a variety of applications, it has UL-certified and complies with strict IATF standards.
Its durable design and small size make it ideal for a variety of applications, for example energy regeneration systems and power quality applications. The product platform is mainly used in the following industries: automotive, medical, oil and gas, wind, and industrial application such as intralogistics robots and elevators.